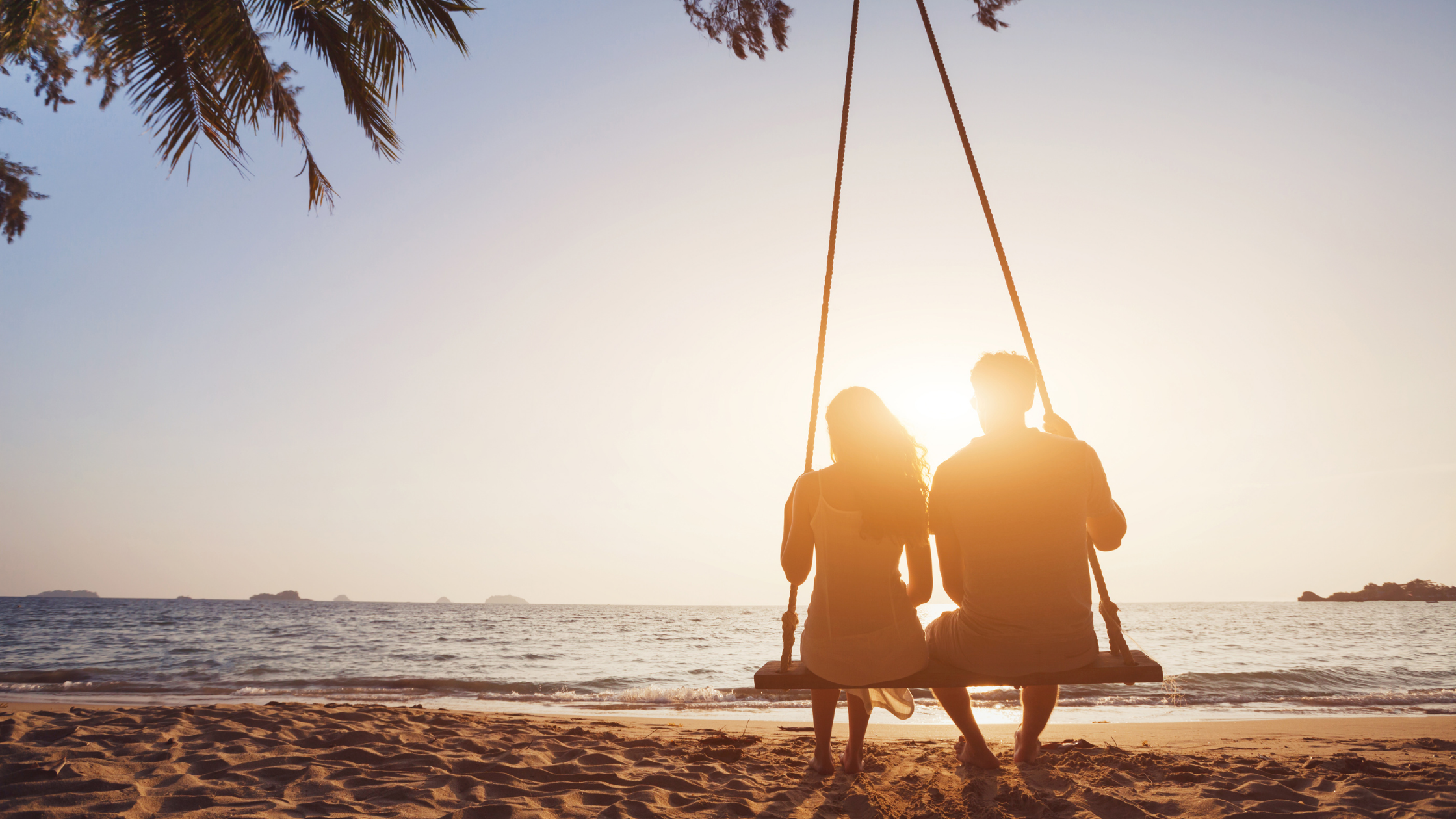 Love is in the air, and we're celebrating by swooning over some of our favorite romantic destinations for two.
By Dana Baasiri 
Couples who travel together, stay together! Sure, flowers and chocolate are a great romantic gesture, but nothing can compare to packing those bags, disconnecting from your everyday routine, and exploring a new destination together. If you're a couple who loves to travel, then you'll appreciate these dreamy, beachfront settings. 
From turquoise Caribbean waters to the deep blue Pacific, here are our favorite romantic destinations:
Jamaica
Home to some of the friendliest faces, warm hospitality, vast views and lots of adventure, Jamaica can be a one-stop-shop for any type of traveler. Whether you're looking for laid back romance where you watch the sunset and take in the lush scenery, or are looking to get lost in one another as you chase the famous Dunn's River waterfalls, zipline across the mountain tops of Ocho Rios, or scuba dive off the coast of Negril, this island will not disappoint. Couples can immerse themselves in Jamaica's vibrant culture, music, food and hospitality as they reconnect with one another. 
Insider's tip: Don't miss out on Negril's famous seven mile beach and sunsets. Nestled in the west end of Jamaica, Negril has made a name for itself among both locals and visitors for its stunning views and white sand beaches.
Hawaii
A couples getaway to this breathtaking and geographically diverse destination has all the makings of the ultimate romantic experience with lush mountains, active volcanoes, stunning beaches and so much more. Not only can couples sign up for a tropical vacation with sun, sand, surf and Mai Tais, but they can discover wondrous cultures, thrilling water and land sports, and charming local towns. With five main islands to choose from, each one has its own unique personality and vibe. If you are an outdoor enthusiast and an adventurous soul, this is the place for you. From kayaking and swimming with sea turtles to shopping, and even historic sites like Pearl Harbor.
Insider's tip: For a real memorable trip, venture out on the Road to Hana Maui — a 64.4-mile-long scenic stretch of untouched landscape and cascading waterfalls. Looking to be more active? Enjoy a Haleakala sunrise bike ride down 30-38 miles of winding road at the dormant volcano.
Mexico
The beauty of Mexico lends itself perfectly to any type of vacation — but especially a romantic one. From the Caribbean coast to the Pacific, there are endless options for couples to choose from that will quench their thirst for adventure and romance in one stay. Ancient ruins, Mayan culture, and turquoise waters on the Yucatan Peninsula await couples looking for a Caribbean adventure. While deep blue waters, whale watching, and breezy deserts in Cabo San Lucas await those looking for a more west coast vibe. Not to mention, the vibrant towns of Merida, Oaxaca, and even Puebla (just to name a few) offer travelers rich culture, history and diversity. 
Insider's tip: There's no shortage of talented artisans across Mexico. Support the local community and treat one another to a unique, handcrafted gift that represents the culture of that region.
Turks and Caicos
Miles and miles of powdery white sands, breathtaking reefs and jewel-toned waters are home to one of the most romantic and luxurious islands in the Caribbean. Couples in search of a romantic vacation can find all they are looking for here with upscale accommodations from expansive resorts to private villas, fine dining and mouth watering seafood (including all the conch you could ask for), and top-notch service. From Grace Bay Beach (ranked as the #1 beach in the world on TripAdvisor) to the more laid back South Caicos region, this island will satisfy the most discerning couple. 
Insider's tip: Turks & Caicos is home to the third largest barrier reef in the world so don't miss out on the array of snorkeling, scuba diving, stingray tours and even nighttime excursions.
Bahamas
The Bahamas have been a fan favorite for quite some time now, but still ranks as one of the best places to spend some much needed quality time together. Couples looking for a more "urban" city escape can spend some time in the island's capital of Nassau, with a charming downtown area, easy access to scooters to get around, and a lively fish fry. Those looking for a more secluded option can escape to one of many islands, such as Great Exuma, where upscale resorts, boutique hotels and exclusive adventures like swimming with the pigs await them. 
Insider's tip: Looking for an unforgettable and unique experience? Head to Harbour Island to enjoy its renowned Pink Sand Beach.
Dominican Republic
Palm-tree lined beaches, chalky-white sands, and lots of Latin flavor — those are just a few things you'll find in the trenches of the Dominican Republic. With plenty of ritzy resorts, city hotels and lively all-inclusives, there is no shortage of options in this Caribbean nation. Couples looking for rich history and scenic attractions can flock to the capital of Santo Domingo. Alternatively, they can escape to the Bavaro Beach area in Punta Cana where unlimited gourmet dining, horseback riding on the beach, and spacious accommodations just steps away from the beach await them. 
Insider's tip: The Dominican Republic isn't only known for its beaches. For a taste of the "wild" side of this Caribbean country, opt for a zip lining adventure above its lush terrain and enjoy views from the top.
Whether you're after a quiet and peaceful romantic getaway, or are looking for a more upbeat and adventurous escape together — there's something for everyone.
Alliance Connection works with Caribbean and Mexico travel brands to drive awareness and bookings through strategic marketing partnerships and powerful brand interactions across a highly selective portfolio of brands, media, social influencers and entertainment partners that connect, capture and influence travelers across the U.S. 
To be part of our connected community and join in on the fun, follow along at @allianceconnection